The Custom Shop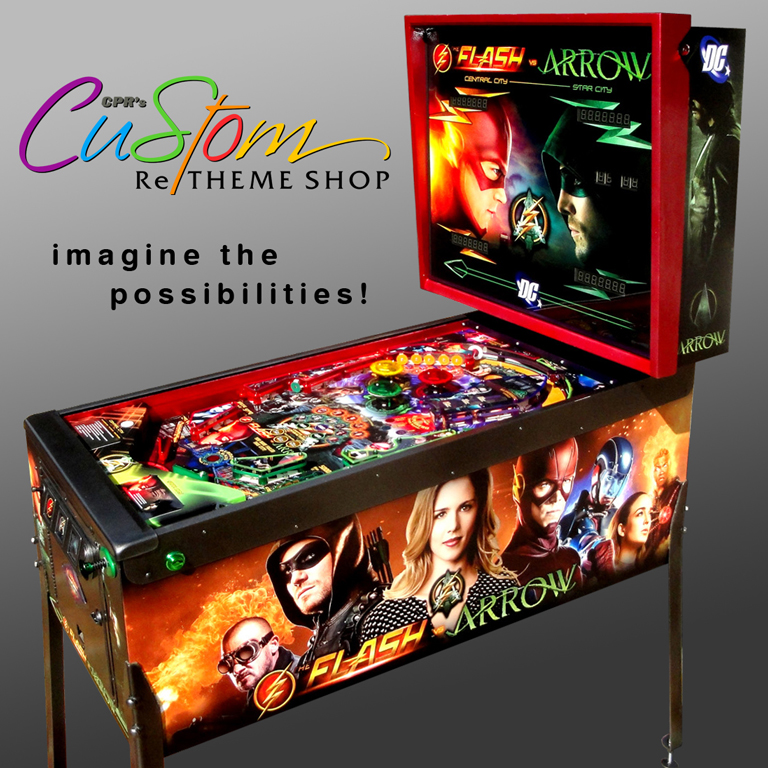 CUSTOM RE-THEMING SERVICES
This is the spot!  CPR is now the hobby's first & only Custom Shop for Re-Theming.  We can help with everything from printing your custom plastics, backglasses, playfields, and even cabinet decals, etc. Use your own artwork, or let us work with you to develop it.  Re-Theme your pinball machine into a one-of-a-kind, of any theme you want.  Ever had a dream machine?  Well CPR can get you all of the major components that hold most re-theme dreams back.  Dreams CAN come true!
Just have a look at the STUNNING finished Re-Themes we have already worked with!  (See galleries provided below)
We do not make "overlays" for our custom playfields.  All of CPR's Custom Re-Theme playfields are printed directly onto the wood, just like the real thing. You can either supply us with your used playfield (properly prepared for printing) , or if we have the CAD cutfile for your title, we can make you a completely new playfield.  If you want to completely change playfield inserts to other colors to match your theme – no problem!  You can change them out, or have us do it for you.  Every project is different, and every project is fully custom.  The possibilities are only limited by your creativity!
Any new Custom Re-Theme project deserves a real backglass. We can make it for you!  You can even have mirroring added to it at no additional charge.  As an added bonus, we include 2 Backglasses with your Re-Theme purchase.
We also provide new plastics that are printed and laser-cut on PETG. The same process you have come to expect from CPR.  Not computer printer decals stuck to Dremel plastic (haha).  As an added bonus we include 2 sets of your new plastics set with your Re-Theme purchase.  Your plastics layout can be anything that will fill up a standard 24" x 24" sheet, even with "extras" if you like, including common break plastics, custom key fobs, etc.
If you need a topper for your new Re-Theme, no problem, we do that too.  All toppers are printed and laser-cut from 3/16" Acrylic and include mounting holes.
If you want to go all the way, we can also provide you with custom cabinet decals, apron decals, spinner decals, target decals, etc… all from your custom Re-Theme artwork, or you can have us develop the artwork for you.
Games in the Re-Theme Photo Galleries are not for sale.  The Artwork Graphics seen in the Galleries are also not for sale.
This service is NOT for Repro projects, please do not ask.